Contact:
Octane Football
Amy Vohs
p: 515-339-4118
e: octanefootball@gmail.com
New York Jets Allen Lazard Youth Football Camp Comes to the Des Moines Metro for the second year in a row
ALLEMAN, Iowa (May 31, 2023) – Former Iowa State Cyclone, and All-Pro New York Jets wide receiver, Allen Lazard will host the 2nd Annual Allen Lazard Youth Football Camp at North Polk Stadium in Alleman on June 24th from 4:30 PM to 7:00 PM.
Lazard and camp coaches will provide a day of fun and football, where attendees will interact with Lazard, enjoy skills & drills, participate in contests, earn awards, and play non-contact games. The camp is open to all youth aged eight to 16. Each camper will receive a t-shirt, a group photo auto session with Lazard, and items from camp sponsors.
Featuring special guest coach Jake Hummel, a former Dowling Highschool Graduate, Iowa State Cyclone and Current LA Rams Linebacker.
Registration and more information can be found at octanefootballcamps.com.
-30-
To download full image, right-click and choose "save image as"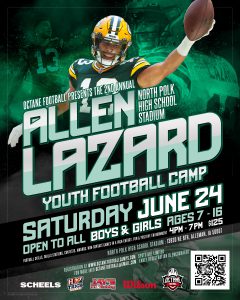 New York Jets Allen Lazard Youth Football Camp Comes to the Des Moines Metro for the Second Year in a Row