Contact:
Mike Ferlazzo
570-577-3212
570-238-6266 (c)
mike.ferlazzo@bucknell.edu
*PLEASE NOTE: A STUDENT FROM YOUR AREA IS LISTED IN THE RELEASE. THANK YOU!
Phillipsburg's Brianna Bolorin '24 Conducting Research That May Advance Biomedical Therapeutics
LEWISBURG, Pa. (November 1, 2023) – Brianna Bolorin '24 is a cell biology/biochemistry major who has developed the mindset of a seasoned scientist through her lab experience at Bucknell. She conducts research with Professor Sarah Smith, chemistry, to develop anti-parasitic peptides that could lead to advances in biomedical therapeutics.
As a high school student in Phillipsburg, New Jersey, Bolorin became aware of the hands-on research opportunities Bucknell offered. "I have always been fascinated with understanding how things work," she says. "Being able to learn about the mechanisms that sustain life through lab work was exactly what I wanted to do."
Eager to become part of Bucknell's scientific community, Bolorin attended a research exposition that introduced first-year students to research opportunities. There, she met Smith and learned about her work designing metallopeptides — proteins that contain a metal ion and play a vital role in biochemical and physiological processes. Soon after, Bolorin was part of Smith's lab, designing and conducting her own protein synthesis experiments.
The peptides they are designing have a mission: to interrupt the normal protein interactions of disease-causing parasites. Their peptides act as enzyme inhibitors, cutting off the lifeline that allows parasites to survive. If successful, Smith's and Bolorin's peptides will cause parasitic death while keeping human hosts safe.
Bolorin has spent the past two summers on campus furthering her research, thanks to the support of Jacquelyn Awigena-Cook '05 who is the director of global regulatory policy & intelligence at Bristol Myers Squibb in London. As a cell biology/biochemistry major at Bucknell, Awigena-Cook found her own summer research experience as a student to be so impactful that she wanted to ensure other students would have the same valuable experiential learning opportunity. Her financial support enabled Bolorin to live on campus and receive a stipend for her research contributions.
Bolorin says she is grateful for her lab experience with Smith, which has helped her develop proficiency in lab techniques as well as the ability to communicate her findings.
"One of my favorite things about being in the lab is troubleshooting," she says. "While it can definitely be frustrating when things aren't working the way you expected, I've found those situations to be some of the best learning opportunities." All of Bolorin's efforts in Smith's lab will culminate in her senior thesis this year.
Bolorin plans to submit her research findings with Smith to a research journal in 2024. If accepted for publication, she would be the lead author. "Overall, I think that having the opportunity to see what a research lab is like was helpful for me when deciding what I want to do after Bucknell," she says. "My experience has made me confident that I want to continue working in a research lab."
-30-
To download full image, right-click and choose "save image as"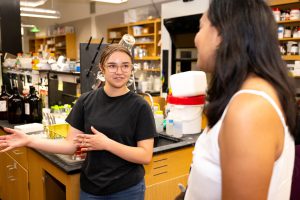 Jacquelyn Awigena-Cook and Brianna Bolorin