Contact:
Greg Edwards
573-201-0936
greg.edwards@mst.edu
For more news: news.mst.edu

ROLLA, Mo. (April 10, 2023) – An aerospace engineering Ph.D. student at Missouri University of Science and Technology is leading a team of 12 undergraduate students on a research project that is literally out of this world. The group recently received funding to continue its work for NASA's 2023 Breakthrough, Innovative, and Game-Changing Idea (BIG Idea) Challenge: Lunar Forge.

"We are working to develop a new method for metal production on the moon, which could eventually allow buildings to be constructed on the lunar surface," says Jacob Ortega, of Vallejo, California, who is the team's leader. "The ultimate goal is to have a sustained presence on the moon."

In fall 2022, the team developed a proposal for NASA, and the federal agency recently approved funding for the project. 

The group's project, called "Lunar In-Situ Aluminum Production Through Molten Salt Electrolysis (LISAP-MSE)," will receive over $160,000 from NASA in funding. NASA also awarded funding to six other teams from universities across the United States who are also working on methods to produce metals on the moon.

Ortega says he first learned about the NASA challenge from his advisor, Dr. Daoru Han, an assistant professor of aerospace engineering at Missouri S&T. In 2022, Ortega was awarded a doctoral fellowship through S&T's Kummer Innovation and Entrepreneurship Fellows Program, and he says Han brought the challenge to his attention.

"After I learned more about the challenge, I realized this could be a perfect way to jumpstart my research," he says. "I can focus on this challenge with my excellent team of undergraduate researchers, and then after the challenge is over, I can continue exploring this area while completing my dissertation."

The S&T team plans to work with anorthite, a material that is abundant on the moon that contains large amounts of aluminum. They will use a type of electrolysis to reduce the aluminum oxide in the anorthite into aluminum metal that could then be used for other purposes.

Han, who is a faculty advisor for the team, says this is a valuable research opportunity for the undergraduate students taking part in the study, and he appreciates their work.

The undergraduate researchers on the team expressed similar sentiments.

"Once I graduate, I am looking to go into the space sector," says Grant Baer, a junior in aerospace engineering from Webb City, Missouri. "This is a great way to get my foot in the door, make connections and hopefully be hired in this field one day."

"This is similar to the science fiction dream of humanity living in the stars," says Nicholas Graham, a sophomore in aerospace engineering from Parker, Texas, who compares the project to a childhood dream come true. "We are conducting research that will contribute to that effort."

"To be able to contribute to this type of new technology this early in my career is really cool," says Keaton Painter, a junior in mechanical engineering from Morrisville, Missouri. "Plus, this research is more of a necessity than just a project. Our work could have significant implications for future lunar missions."

Matthew Sherman, a sophomore metallurgical engineering major from Camdenton, Missouri, considered this research from an historical viewpoint.

"From a materials science perspective, every age throughout time is defined by its materials and its processes," he says. "It is exciting to research these processes that could be used on the lunar surface in the future."

In June, the team will provide NASA with a mid-project report, and there will be a pass/fail review. If the team advances from there, it will submit a technical paper in October and then take part in the 2023 BIG Idea Forum in Cleveland, Ohio in November.

Ortega says he is actively recruiting additional teammates for this project, as it will require a large amount of work hours. Those interested can contact him at jnomh7@mst.edu. Researchers are paid for their work.

Other team members include: Selena Allen, a senior in geological engineering from Hallsville, Missouri; Aaron Berkhoff, a senior in aerospace engineering from Brandon, Florida; Jessica Glenn, a senior in mining engineering from Edwardsville, Illinois; Joshua Hickman, a senior in mechanical engineering from Wright City, Missouri; Easton Ingram, a senior in mechanical engineering from Salem, Missouri; Mercedes Lane, a senior in geology and geophysics from Berea, Kentucky; Mason Phillips, a senior in mechanical engineering from Webb City, Missouri; and Christopher Schneider, a senior in electrical engineering from Salem, Missouri.

-30-

To download full image, right-click and choose "save image as"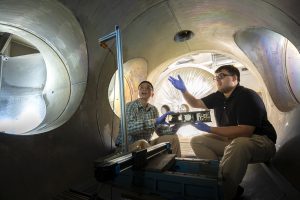 Dr. Daoru Han, left, and Jacob Ortega discuss engineering techniques inside a plasma vacuum chamber. Han and Ortega are working with a group of undergraduate researchers on a NASA challenge. Photo by Michael Pierce/Missouri S&T.


About Missouri University of Science and Technology
Missouri University of Science and Technology (Missouri S&T) is a STEM-focused research university of over 7,000 students. Part of the four-campus University of Missouri System and located in Rolla, Missouri, Missouri S&T offers 101 degrees in 40 areas of study and is among the nation's top 10 universities for return on investment, according to Business Insider. For more information about Missouri S&T, visit www.mst.edu.