Mikey Brandt '26, Markets, Innovation and Design
LEWISBURG, Pa. (September 18, 2023) – Mikey Brandt '26 toured colleges not just as a prospective student but as the founder of his own company. In high school, he launched a vintage-inspired streetwear brand — LEFT Clothing (named after his dominant hand) — from his family's garage. In college, Brandt wanted a strong business program within a tight-knit community. He found both at Bucknell. "I felt an immediate connection here," he says. "I knew it was a place that would help me develop my entrepreneurial and leadership skills."
Brandt is studying markets, innovation & design in the Freeman College of Management with the goal of eventually working in the fashion or marketing industries. His curiosity about design was sparked in elementary school when he used an online tool to customize his own Nike sneakers. "That experience made me realize that I like making my own things," he says.
As a teenager, Brandt started taking screen-printing lessons at a local shop in his hometown of North Haven, Conn. He became hooked and bought his own screen printer and began producing his own line of comfortable and vintage-looking streetwear with details like distressed fabrics and acid-washed colors. He's mindful of today's pricey nature of clothes, which is why he says customer affordability is a priority. "I want to be the type of brand that produces the same quality of clothing at a price that is more available to everyone," he says.
In his first semester at Bucknell, he took an entrepreneurship course with William Meek, the Campbell Rutledge Jr. and Eleanor Rutledge Professor of Management & Entrepreneurship, which helped spark an idea for a new business line: LEFTover, which aims to reduce waste by upcycling used fashion items. Brandt developed his idea into a proposal, pitched it at Bucknell's 2023 BizPitch competition and made it to the semifinals. He's now applying everything he learned in the process to launch the new venture this fall. "Since BizPitch, I've already made and sold some of these one-of-a-kind items," he says. He is partnering with a manufacturer in Los Angeles to fulfill orders.
Over the summer, Brandt continued to elevate his trade skills and business acumen through an internship at the same screen-printing business in Connecticut where he got his start. He spent hours on the equipment creating screens and producing more complicated prints made up of multiple colors. He also learned how to work on different types of clothing he hadn't tried before like sweatpants.
Back on campus, he's found inspiration and community in Bucknell's makerspaces — like the 7th Street Studio — where he sketches designs, experiments with screen printing and collaborates with other creative thinkers.
Though building his business is time-consuming, Brandt has managed to plug himself into other social communities on campus. He's a member of Club Baseball and the marketing chair of Epsilon Eta, an environmental studies honor society that organizes campus greening projects. He and Colin Knauft '26 even co-founded the Bison Bowlers, a student league comprising 12 teams that play at a nearby alley in Lewisburg.
"I love the small, small aspects of Bucknell," Brandt says. "There is a special community here I wouldn't have at a bigger school."
-30-
To download full image, right-click and choose "save image as"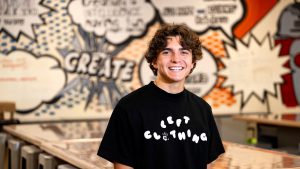 Mikey Brandt '26 is advancing his entrepreneurial and leadership skills at Bucknell
Photo by: Emily Paine, Communications