Contact:
Linda Relyea
719-587-7827
lsrelyea@adams.edu
www.adams.edu/news
Jeff Tucker earns doctorate from Adams State University
ALAMOSA, CO. (June 15, 2023) – Jeff Tucker earned his Ph.D. in counselor education and supervision from Adams State University on May 13, 2023. The Graduate Commencement Ceremony awarded 449 degrees including 351 MA degrees; 41 MS; 46 MBA; and 11 doctorate degrees.
Tucker knew at age 18 he would one day earn a doctorate degree. "During the convocation ceremony following my undergraduate freshman orientation, the speaker shared that the best way to meet a goal was to look at it in writing every day. I wrote "Ph.D." on a blue Post-It note and placed it on the door of my dorm room. I still have the note."
Tucker chose Adams State as it is CACREP accredited and fit his schedule. "Having the opportunity to attend synchronous virtual courses and in-person residencies was the perfect solution. It was the only university I interviewed at, and I have never second-guessed choosing to attend Adams State."
He appreciated the Counselor Education Department for allowing students to teach as they pursue their Ph.D. "Teaching is my passion, and I have grown so much as an educator as a result of my time at Adams State. I won the Presidential Teaching Award in the graduate school division last year, which was such a humbling and rewarding honor."
Tucker served as president of Alpha Sigma Chi last year, Adams State's chapter of Chi Sigma Iota – the International Honor Society for counseling students.
The School of Counselor Education allowed Tucker to conduct research that aligns with what matters most to him. He has been published in three separate journals, and is on the Editorial Review Board for the Journal of LGBTQ Issues in Counseling. Tucker's dissertation, "Queens of Color: What It Means to Be a Black Drag Queen," was his most rewarding research experience. "I am immensely proud of that work and will always be indebted to my participants because LGBTQIA+ issues, social justice issues, and creativity are so meaningful to me.
Tucker is grateful for the support from the professors. "Don't get me wrong, they didn't say it would be easy, and it hasn't been, but they always made me feel like I would make it to the finish line. I have to give a special shoutout to Dr. Laura Bruneau. She served as my mentor and has been instrumental in my growth in the field of academia."
His family was always supportive. "They have always been strong proponents of education. Though my partner and I separated while I was in this program, he remains my best friend and most vocal supporter. I was also cheered on by my current boyfriend. Out of all my family, however, my dog helped the most. She saw me through some tough times and was always there to comfort me."
Tucker is currently as an adjunct instructor for Adams State, and he writes social-emotional learning books for children on the side. In the fall, Tucker will start a full-time lecturer position in another CACREP-accredited counselor education program. "I'm excited for what the future holds, and this future would not be possible without Adams State."
-30-
To download full image, right-click and choose "save image as"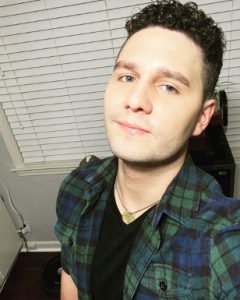 Jeff Tucker earned a Ph.D. from Adams State University.