Contac:
Linda Relyea
719-587-7827
lsrelyea@adams.edu
www.adams.edu/news
Maya Waddington is an outstanding graduate of Adams State
ALAMOSA, CO. (June 15, 2023) – Maya Waddington, Aurora, Colo., graduated Magna Cum Laude from Adams State University, during the Spring 2023 Commencement Ceremony on May 13, 2023. Waddington earned a Bachelor of Arts in art education and a Bachelor of Arts in art: painting and sculpture.
The university was a huge cultural adjustment for Waddington, coming from a big city. "I gained a broader perspective that will translate to my teaching and artistic career." She appreciated the personalized classes and opportunities that allowed her to advance as a student and person. "I met amazing people here and have formed a network to last a lifetime. I appreciate all the experiences Adams State had to offer."
Waddington will pursue a master's degree in art history and visual culture as she continues to teach and showcase her artwork.
"I have an amazing relationship with all my professors. I always knew they had my best interests at heart. They supported me every step of the way."
Waddington appreciated the school districts' teachers who acted as mentors. "They were informative and welcomed me to their classrooms with open arms and allowed me to learn from them. The artists in the Valley are inspirational and encouraging to future artists and I hope one day I can help art students take the next step in their careers."
With the help of scholarships, Waddington graduates with very little student loan debt in four years. She played volleyball for two of those years.
"From a freshman to senior I have grown a lot personally, academically, and professionally. I feel like the biggest difference is that I embraced my career path whole heartedly and I am ready to get started."
-30-
To download full image, right-click and choose "save image as"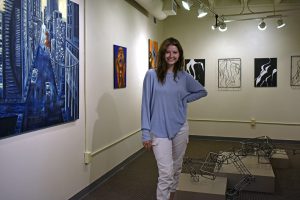 Maya Waddington graduated with honors from Adams State University. Pictured, her senior art show exhibit in the Adams State Hatfield Gallery.