Contact:
Linda Relyea
719-587-7827
lsrelyea@adams.edu
www.adams.edu/news
Sydney Wiedeman is an outstanding graduate of Adams State
ALAMOSA, CO. (June 15, 2023) – Sydney Wiedeman, Gilbert, Ariz., graduated Summa Cum Laude from Adams State University, during the Spring 2023 Commencement Ceremony on May 13, 2023. Wiedeman earned a Bachelor of Science in geoscience: physical geography and conservation; and a minor in sociology.
Choosing Adams State to earn her degree has allowed Wiedeman to balance being a part of the women's soccer team while pursuing her degree. "Choosing to come to a smaller school like Adams State enabled me to make closer connections with all the professors in my department and exposed me to many unique opportunities where I have been able to apply my studies to potential fields of work."
Wiedeman will intern at the Great Sand Dunes National Park Visitor Center this summer. Her long-term plans include a full-time position with the National Park Service and continue her education by pursuing a master's degree in meteorology or atmospheric science.
Professors within her major ensured Wiedeman's success. They made sure she didn't fall behind in courses and were always available. "They also encouraged me to take part in opportunities outside of school and soccer to expand my experience in the fields of geoscience, which has ultimately helped me figure out what future careers I could have after graduating."
Wiedeman received several scholarships; had an internship with Land Life; held work-study positions in the STEM Center as a tutor; and took part in mentoring incoming STEM students. "My connections with my supervisors in the STEM Center allowed me to create stronger connections with my classmates and peers who were studying similar majors as mine."
She graduates in four years with no student loan debt.
"My growth from an incoming freshman to a graduating senior has been exponential. I feel that all the experiences I've encountered at Adams State helped me find clarity in what I want heading forward towards my future life and career. As a freshman, I was still trying to find myself, figure out what I wanted to do, and figure out what type of person I wanted to be. Now, as a senior, I can't say I have it all figured out, but the opportunities at Adams State have given me the chance to get to know myself better and to find out what fields of geoscience I am passionate about."
-30-
To download full image, right-click and choose "save image as"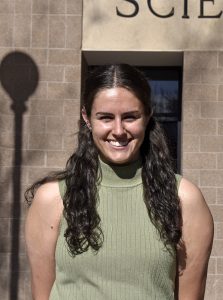 Sydeny Wiedeman graduated with honors from Adams State University.