Contact:
Linda Relyea
719-587-7827
lsrelyea@adams.edu
www.adams.edu/news
Charlie Olson is an outstanding graduate of Adams State
ALAMOSA, CO. (June 15, 2023) – Charlie Olson, Anna, Texas, graduated from Adams State University, during the Spring 2023 Commencement Ceremony on May 13, 2023. Olson earned a Bachelor of Arts in interdisciplinary studies with emphases in psychology and sociology.
Olson is the first in their family to receive a bachelor's degree. "It really means a lot to me because my family has struggled financially in the past and this allows me the opportunity to change that destiny for myself."
For Olson, small class size is the best benefit of attending Adams State. "It really allowed me to know my professors and work with them on a level I would never have been able to at a bigger college."
Olson's wife, Caitlin, also attends Adams State. "I plan to stay here with her while she finishes her own degree. I plan to continue my work on campus with the queer pride club, the equity board, and hopefully find a job in a relevant department to gain more experience before moving from Alamosa to work in mental health."
Olson credits her success to Heidi Schneider, Ph.D., associate professor of sociology, inclusive excellence liaison and faculty trustee; and other professors in the psychology and sociology programs. "They motivated me in ways I will forever appreciate and provided me with opportunities that have changed the course of my life forever. I am so extremely grateful."
Olson had work-study in sociology; was a peer mentor for freshman students through Grizzly Persist, on-campus employment; and was the social media student ambassador for the Equity Board.
Elaine Wenta, School of Humanities & Social Sciences administrative assistant; and Korry Goldstein, COSI B2W program coordinator; connected with Olson and provided additional opportunities for future employment and academic success.
Olson took out student loans every year. "I know how important receiving my degree was for myself and my future, so it is a price worth paying. It is also less than I would have accumulated at a larger, more expensive university so I am very grateful for that."
It took Olson about five years to graduate. I wanted my efforts to be their best and I knew I would struggle having too many courses, which I actually experienced my first couple of semesters. I believe it is important for students to know their own boundaries and abilities to ensure the best success possible."
Olson was heavily involved with the Equity Board, an organization dedicated to supporting equity for social minorities on campus, as well as helping form and being the president of Queer Pride @ ASU, a student club devoted to supporting queer people.
"I would describe my growth from an incoming freshman to a graduating senior as coming out of my shell. I was often reluctant to engage in campus activities or projects out of introversion, but as I built connections, I found that I wanted to participate more. I feel that this change will help me in the future to feel more comfortable asking questions, being a team leader, and engaging in opportunities for growth."
-30-
To download full image, right-click and choose "save image as"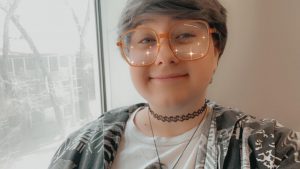 Charlie Olson earned a bachelor's degree from Adams State University.