Contact:
Linda Relyea
719-587-7827
lsrelyea@adams.edu
www.adams.edu/news
Greg Peterson earns doctorate from Adams State University
ALAMOSA, CO. (June 15, 2023) – Greg Peterson, Ridgefield, Wash., earned his Ph.D. in counselor education and supervision from Adams State University on May 13, 2023. The Graduate Commencement Ceremony awarded 449 degrees including 351 MA degrees; 41 MS; 46 MBA; and 11 doctorate degrees.
Peterson sought out a doctoral program for more professional opportunities. "I saw the Ph.D. as an open door to be able to pursue greater engagement with the counseling profession and to be able to invest in the overall direction of the profession."
Adams Sate's CACREP accredited online program enabled Peterson remain in his community. "Adams offered a unique opportunity to be able to pursue scholarly leadership and develop teaching skills which did not require my family to uproot itself and move across the country.:
Academia can be competitive, even in counseling schools. "Adams felt different, it felt supportive and that the faculty were going to get our cohort through the journey and onto the other side. My professors have been along that journey the whole way. They have helped support my professional endeavors and development by writing letters of support, editing my papers and ideas, and being sounding boards for research topics."
Peterson is currently the President-Elect to the Oregon Counseling Association. He was a Western Association of Counselor Education and Supervision (WACES) Emerging Leader. His dissertation was partially funded by a grant from WACES and it won an ACA national award for best practices in research. "None of these awards or recognitions I could have achieved without the academic program and support of faculty I had through Adams State."
The doctoral program opened doors in his career he did not think were available until many years into the future. Peterson spent two difficult years, career-wise, after the university where he was employed closed. "I am happy to say that I have obtained a dream job working as the director of Student Wellness at the University of Portland where I oversee four separate departments of student services relating to wellness."
The Adams State counselor education faculty helped him craft a career and professional identity. "I could not have done any of this without the support of my wife and kids. My wife is my inspiration to be a better person and counselor as we share the same profession. She is the better counselor."
Peterson took on the great adventure to enhance his education and career as an example for his kids. "If their dad can do something big and hard, they can too. I want my kids to know that with their words, actions, and kindness they can change the world every day."
-30-
To download full image, right-click and choose "save image as"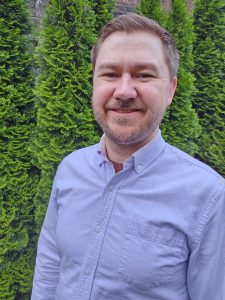 Greg Peterson received his Ph.D. from Adams State University, Colo.